Typically this past week, I'd have been in Philadelphia at my company's HQ for one of our developer meetup's that happen three times a year. This is the first time since 2013 we've had to skip one.
On the plus side, this week also coincides with my wife's birthday. I was able to be with her for it the first time in years. We went to a park across town for a few hours. We were early enough that there were very few people which was very relaxing. We ordered takeout from our current favorite Italian restaurant. Enjoyed a birthday cake my wife made herself (chocolate cake with peanut butter icing – delicious!) then enjoyed playing some board games (see below).
Work
In mid-March, Power Home Remodeling furloughed the majority of our revenue producing staff. We sell in-home. Not a lot of folks have been very inviting of others into their home.
We're still a ways off, but things are taking a turn. We've adjusted for the new normal. Test markets suggest that customers are more than willing to start buying again. We're tracking good and bad spots around the metropolitan areas in which we work and focusing efforts where it's safest.
After the holiday weekend, we're bringing back an initial wave of furloughed workers with the rest staged over the month of June.
Movies
The Dark Tower is a film I've been curious to see because I've been tempted a few times to start the book series, but never have. Knowing nothing about the overall story, I can at least look at the film by itself. And it's not all that good. Characters you don't care about. Scenes that jump from one point to another such that it feels more like a ninety minute trailer than an actual coherent film.
Heroes Shed No Tears, directed in the mid-80's by John Woo, is a film I saw on VHS back in the day and remembered it fondly. Enough so, that when I came across a copy of it on DVD last year, I bought it right away. I watched it again and while my memory was likely better, it definitely holds up and it's still a very enjoyable film. I still consider Hard Boiled his best film by far, but Heroes, for me, is in his top five.

The third and final book in John Scalzi's Interdependency trilogy. A really great end to a really great series. Absolutely love every single one of  the characters. Especially impressed with the writing itself, which was just fun to read. Can't recommend this series enough.
Boardgames
Although we've been stuck at home for a while, my wife and I hadn't gotten any boardgames out to play together until recently.
We'd recently seen an episode of the Netflix series Rotten which was about the cacao industry. This put us in the mood to play Cacao, a game about farming and selling cacao beans. A fun tile-laying game and recommended if you're looking for a family-friendly game that's not any more complex than Carcassonne.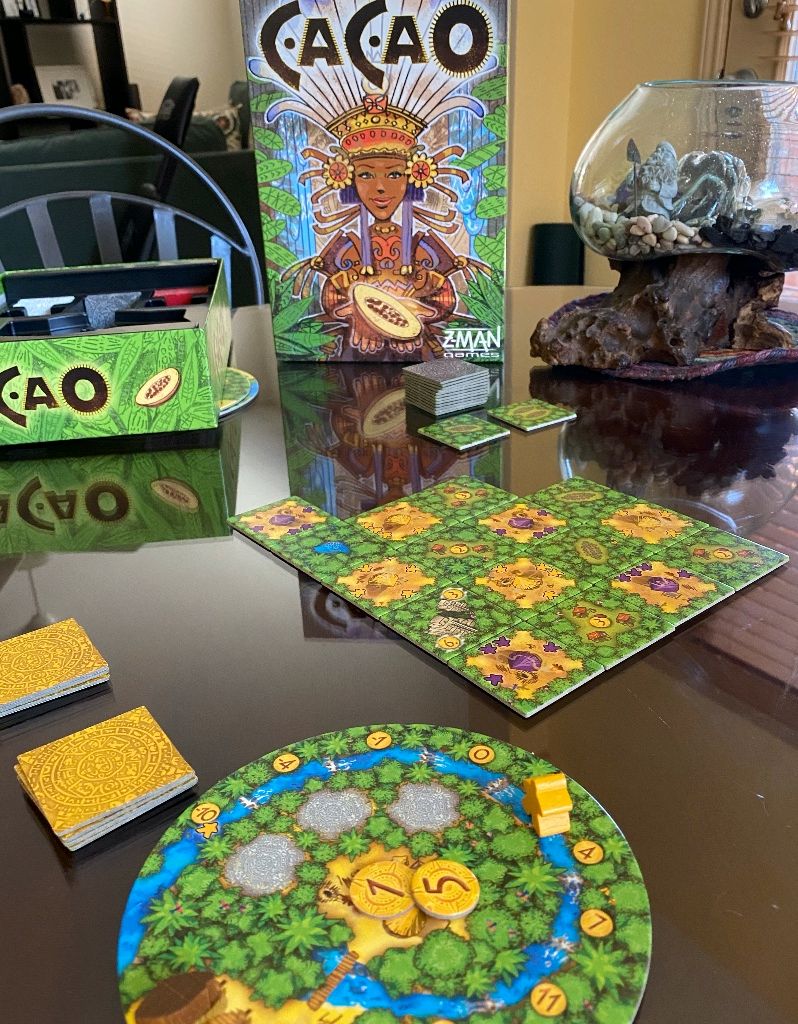 I think I featured this previously, but I'm mentioning it again. A fun game about hiking made even better by being based on the Fifty-Nine Parks print series that came out a few years ago. There's some brief facts on each card so when we visit each part, we read them out loud.