It's been a month since the last post, and I thought I'd get back to at least a bi-weekly schedule with these things. I just set up a reminder I can hopefully pay attention to.
I was at a work function last week in Miami. We got some amazing news there. I had fun. I got back home, and I have COVID.
So here I am writing this as I'm locked away in the remote corner of the house, which luckily keeps me firmly away from my wife, who has the run of the rest of the house. She's been diligently checking on me via phone and ensuring I get what I need so I can stay firmly away from her for the rest of the week at least.
It sucks. I can appreciate how crafty this virus is. It definitely turned me into a viral factory and distribution center with all the coughing and sneezing it prompts. So if you do happen to get COVID yourself, please isolate yourself as much as you can.
Las Vegas
Prior to my Miami trip, I journeyed to Las Vegas with my wife, who attended a conference there.
Seems like Vegas is all back in business, although I don't think all the gamblers are out in full force just yet.
I did get to see David Copperfield's show, which was good. And my wife's employer scored us some tickets for Cirque du Soleil's "O", which we've seen before, but this felt like at least a 75% new/revised show from the one we saw previously.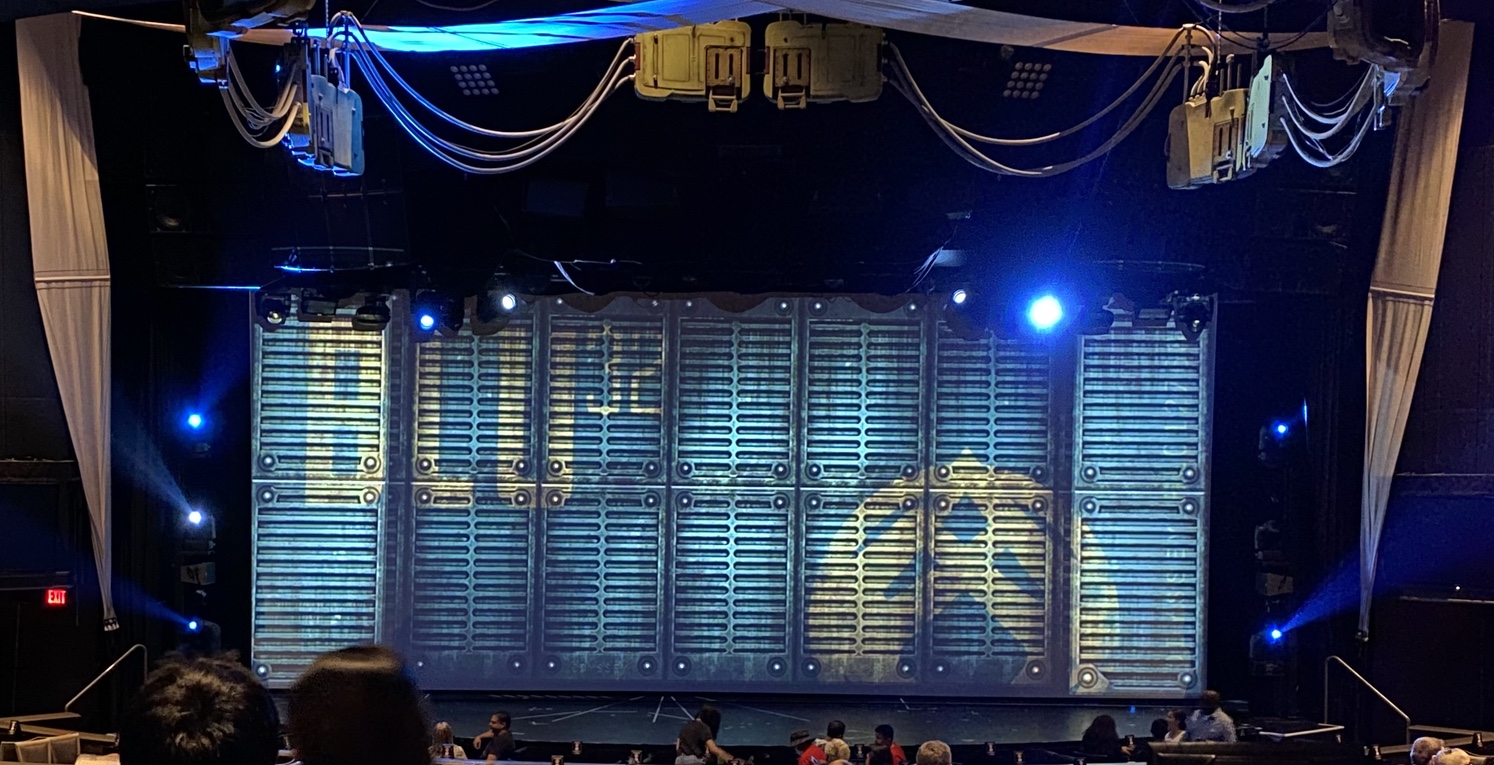 It was ironic that there's a character in Copperfield's act named Blu 32, and we had our own Blu, the dinosaur, join us for the trip.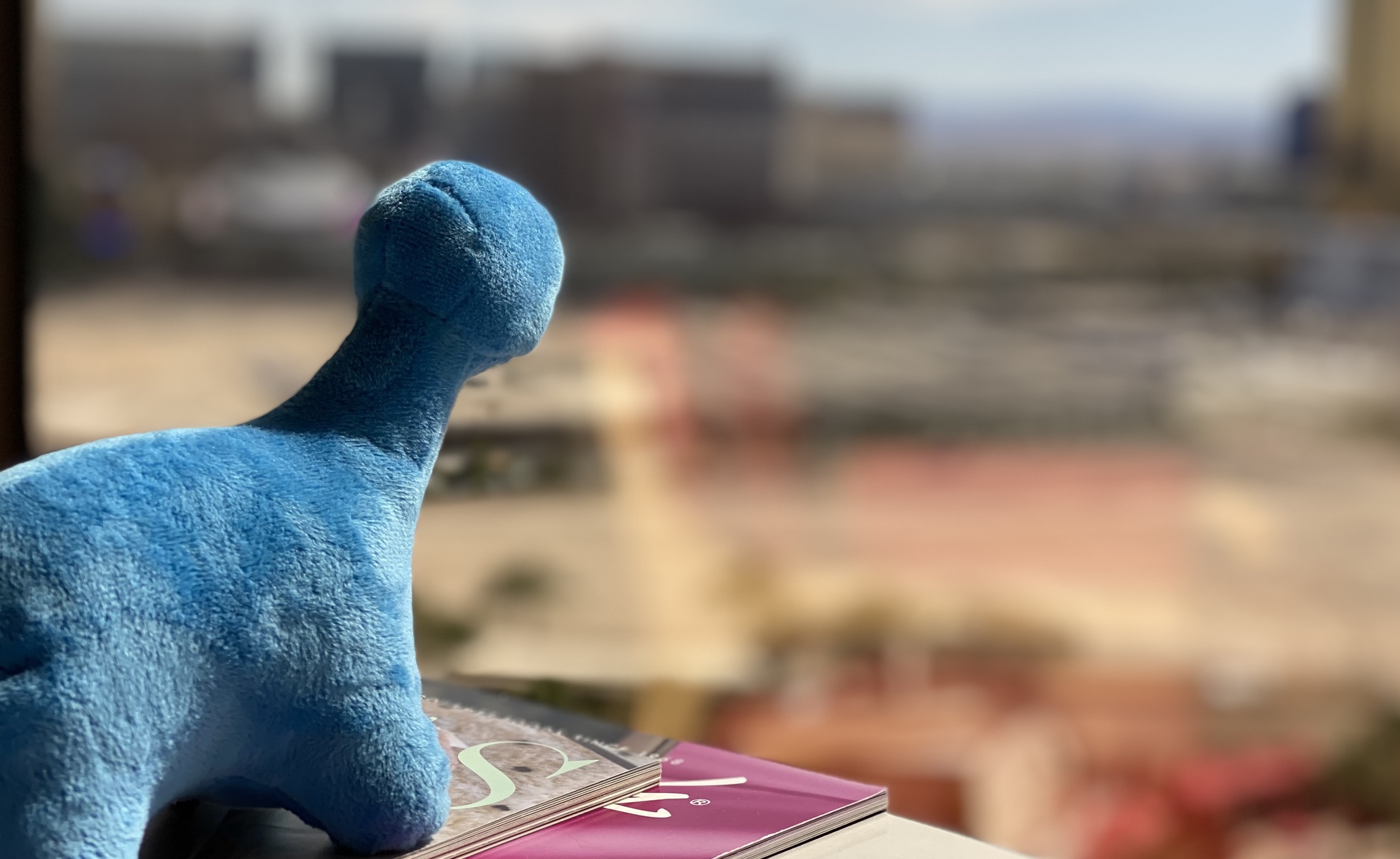 The main reason I went out is that a friend from my high school days lives there and it was a chance to meet up with him for the first time since we were sixteen or so.
Coby Lyons practically lived with me the summer between my sophomore and junior years of high school.  VHS rentals, video games, and all-night sessions of D&D fueled an epic summer. One that watching Stranger Things always reminds me of. I mean, we were those kids. Minus the actual demons and alternate dimensions. Except for in our heads.
It was great to catch up with him in person, and I want to thank him for taking me to the Cornish Pasty Co., which had awesome drinks and food. Definitely check that place out if you find yourself in Vegas.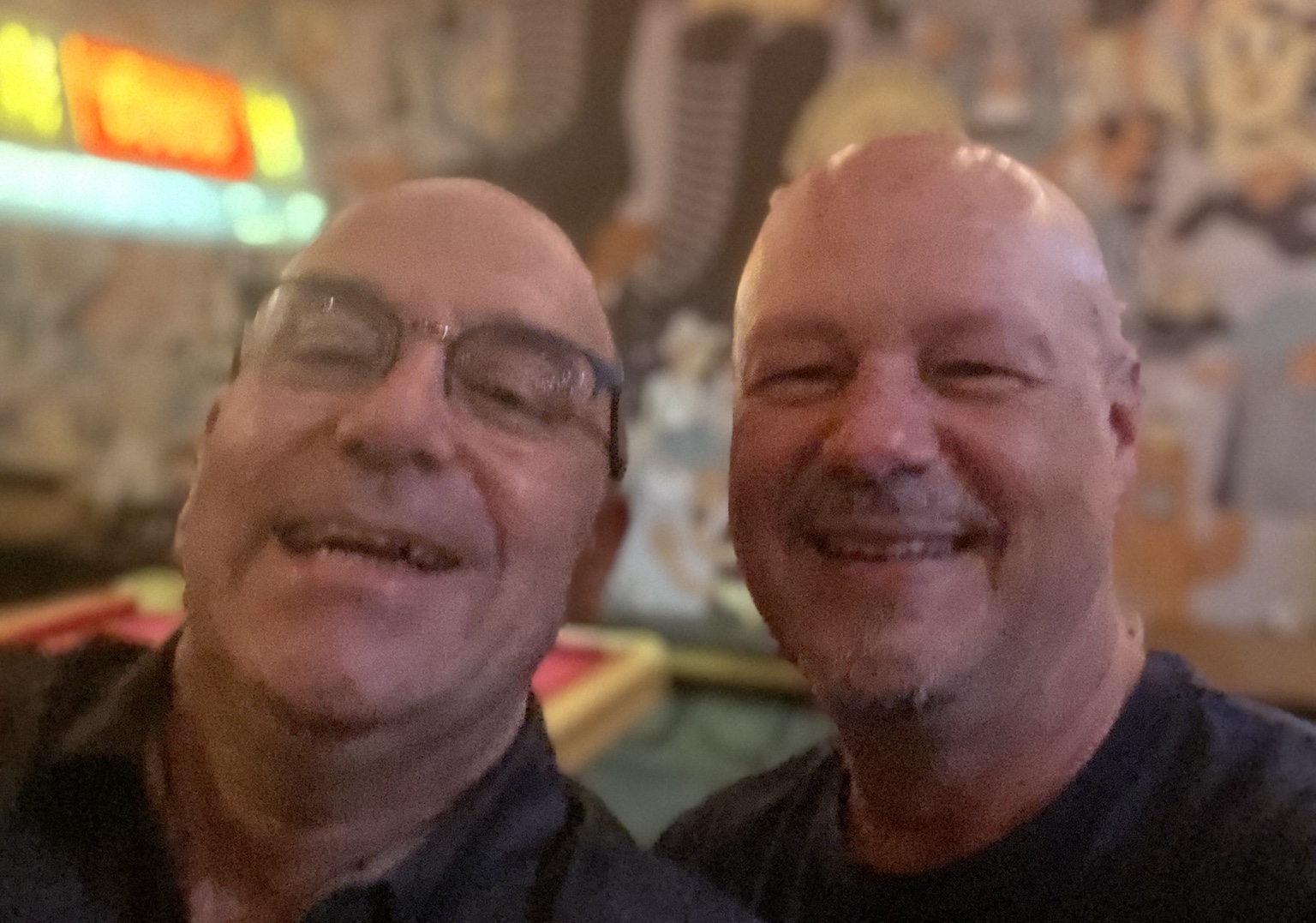 Had such an awesome night just catching up. Even after almost forty years, it didn't feel like we skipped a beat.
Movies
Reelhouse Foundation Series
Desert Hearts (1985) has some boobies which my dad says is required of a good film. I'm sure I saw this back in college as I remember some of the scenes. I wouldn't have seemed this one out to watch, but it's not a bad film.
Hedwig and the Angry Inch (2001) is one I'd never seen before but always wanted to because it got a lot of great word of mouth. Really enjoyed this one.
Smile (1975) I only saw this one a few weeks ago and I'd almost completely forgotten about it already.
Board Games
This time I have a few to post about.
I really like deck builders like Star Realms, and Legendary. Dark Gothic is similar only it's not purely player-vs-player.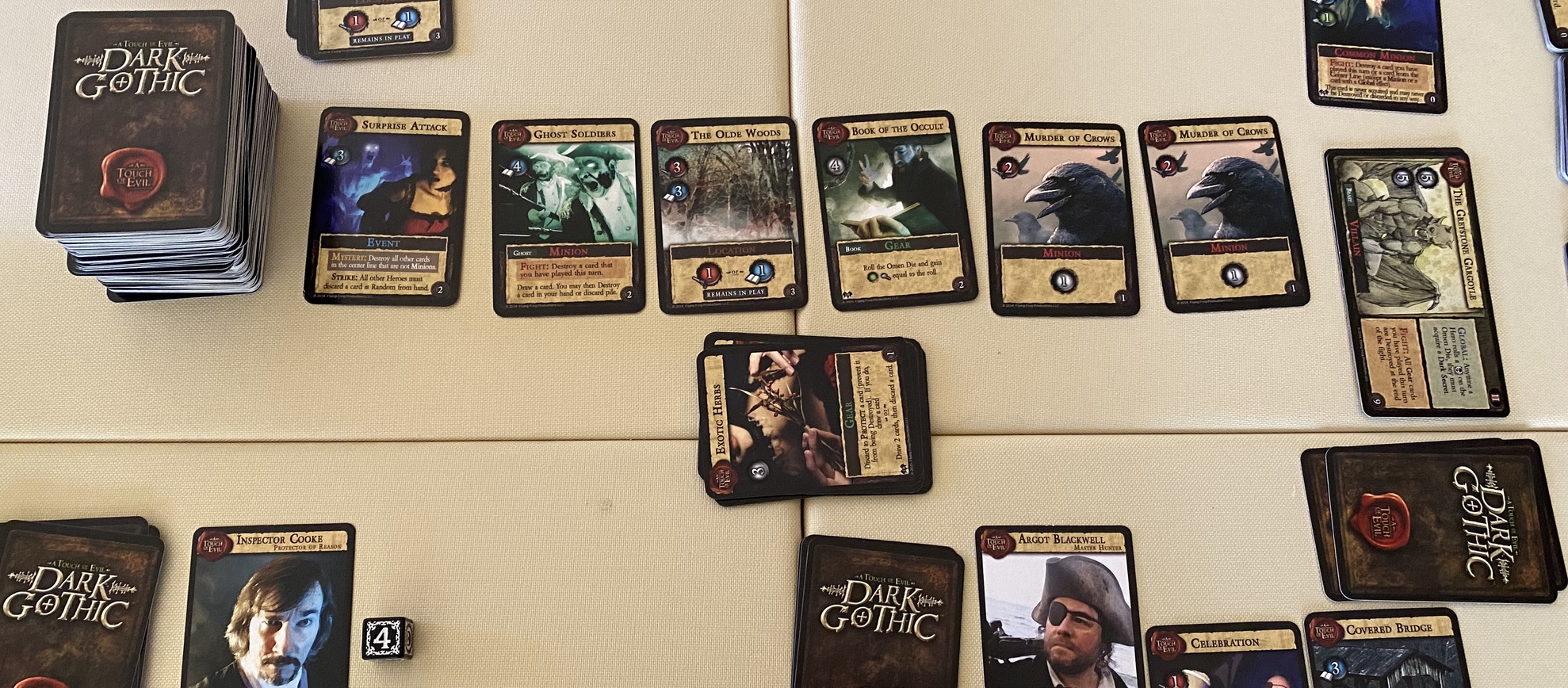 There are three bosses you must defeat one after the other using your deck to attack dark creatures, purchase equipment, and gain allies, which adds to your deck.
For someone familiar with deck builders, I wouldn't say this is a difficult game in most cases, but the winner is the one with the most victory points, so there are cards to hinder or help other players. I always play this through at least three or four times whenever I have it on my table.  
This is a really fun, sometimes challenging, puzzle of a card game. Starts out simple, but don't let that lull you into thinking this game is too easy. You'll quickly find yourself groaning when you realize you are in an unwinnable situation and need to scuttle your mission to retry it one more time.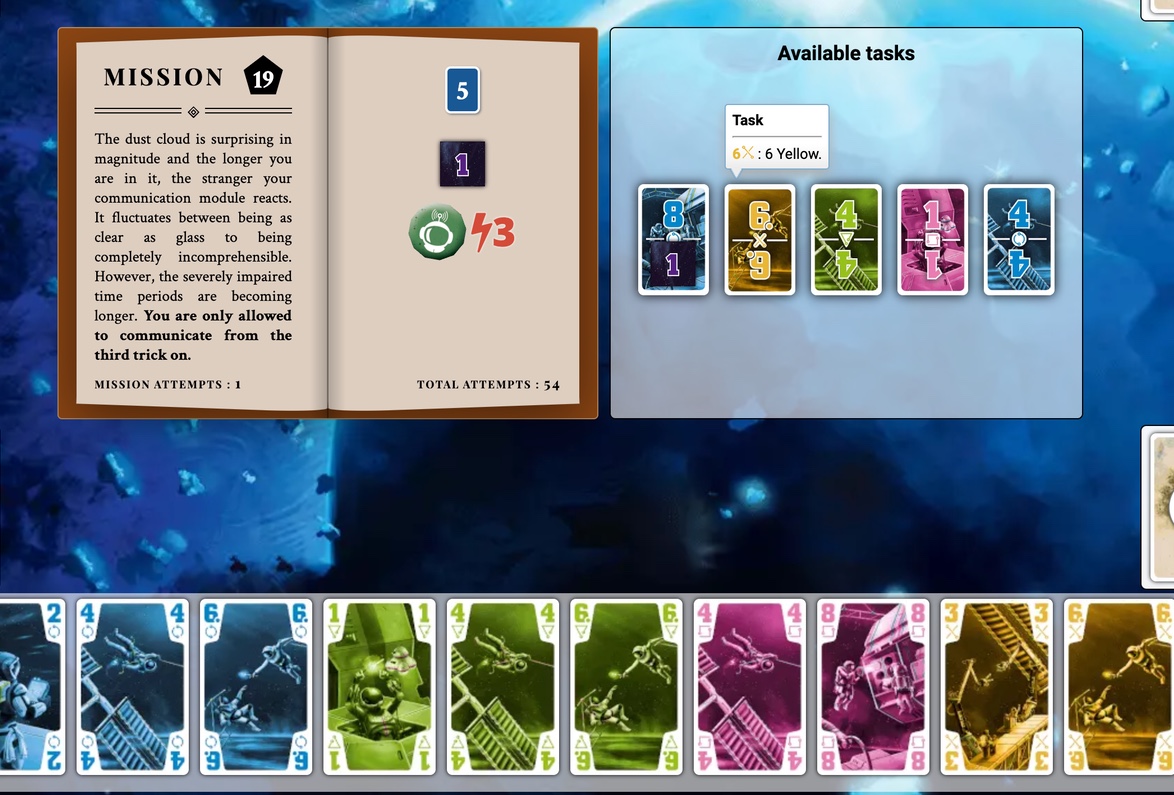 This one's an all-time classic. With all the new games coming out, I rarely get a chance to play it. Still loads of fun.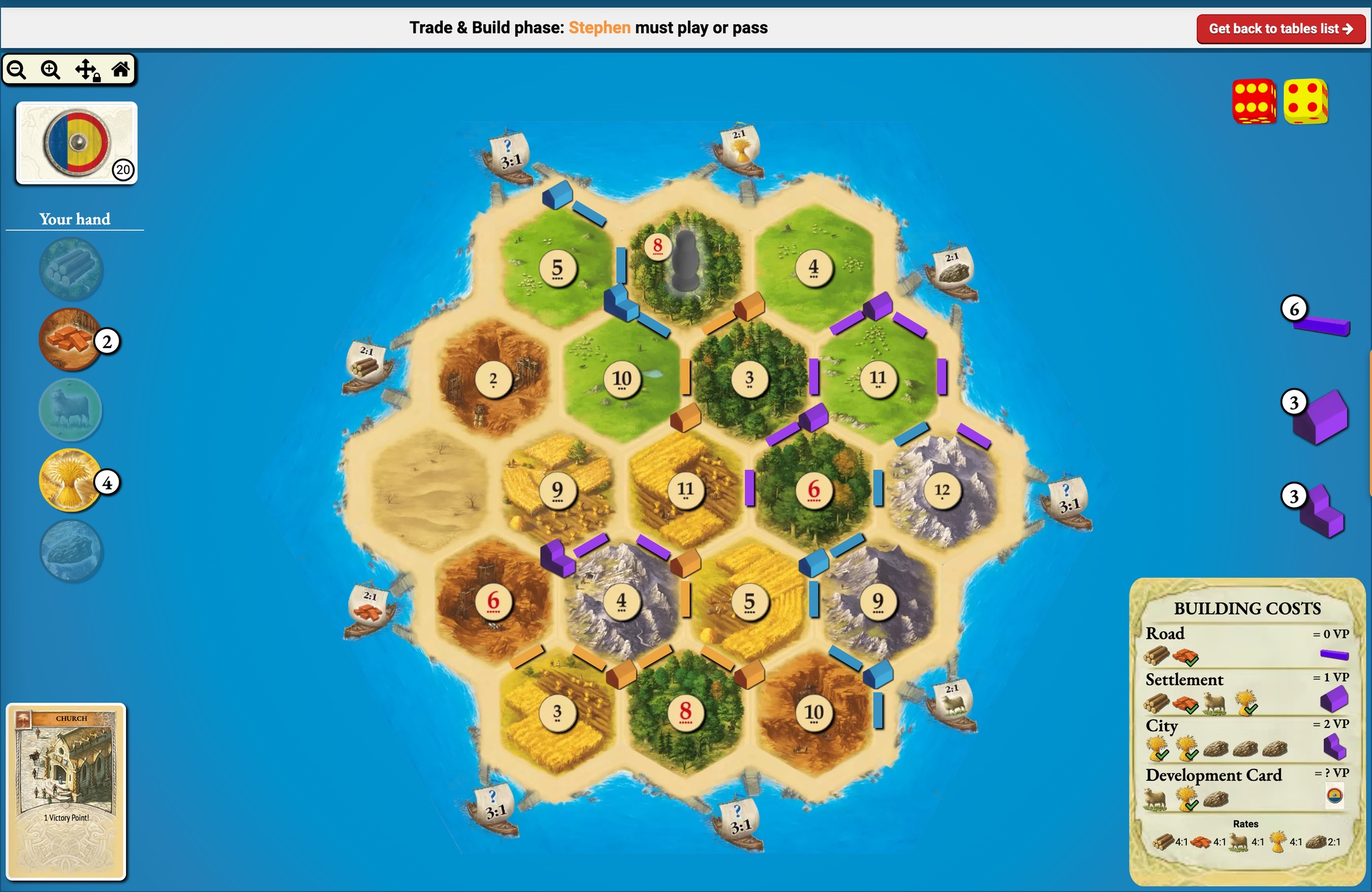 I've tried to learn to play this one previously via the iPad version, and it didn't click with me. After playing the version on BoardGameArena, I can say now that I still don't quite know what I'm doing. I did stuff. I raised some sheep and a pig and cultivated some land, but I couldn't tell you if that translated into points well.
Actually, I can. It wasn't enough points to win the game.