Last week I missed the update because I was traveling for work so I'm catching up on the past two weeks here.
Work
Last week was my department's January meetup at Power Home Remodeling's HQ. To review, we have developers all over the place including a number in Brazil and the Philippines. We get together three times a year.

The past few years in January we've ventured out into other areas of the company to work alongside those who we write software for. This time, we focused on clearing away some of the technical debt we've accumulated so we're better suited to grow our head-count.
Somehow I missed taking any photos of anyone working, so you'll have to trust me about work actually taking place. The week is as much about spending time with each other as it is about getting stuff done.
Peanut and Franklin
Last August, stuffed sloth Peanut joined me in San Diego. This time Peanut was joined by Franklin the bat.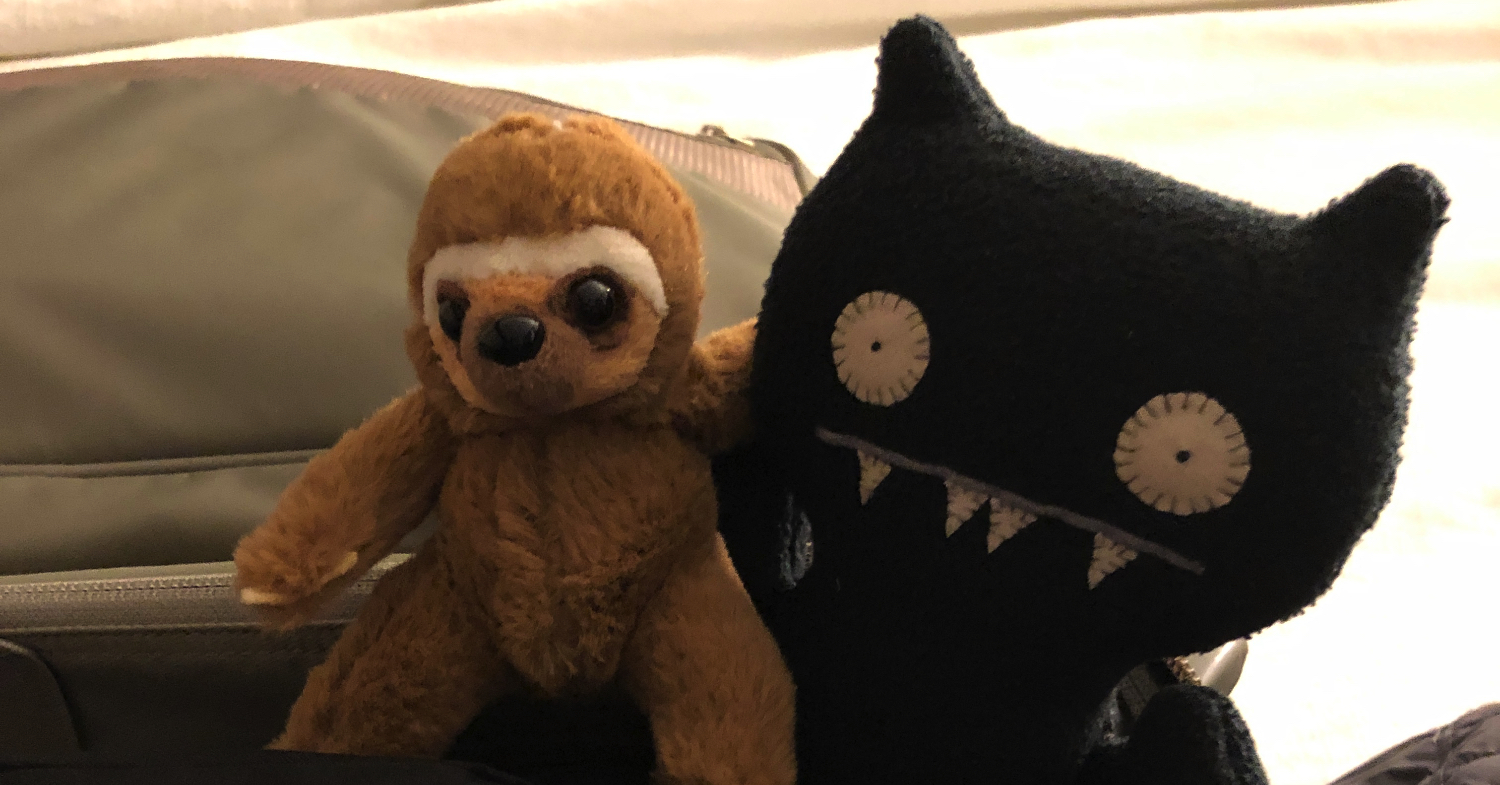 They spent all of their time in the room unfortunately, but they still did a lot.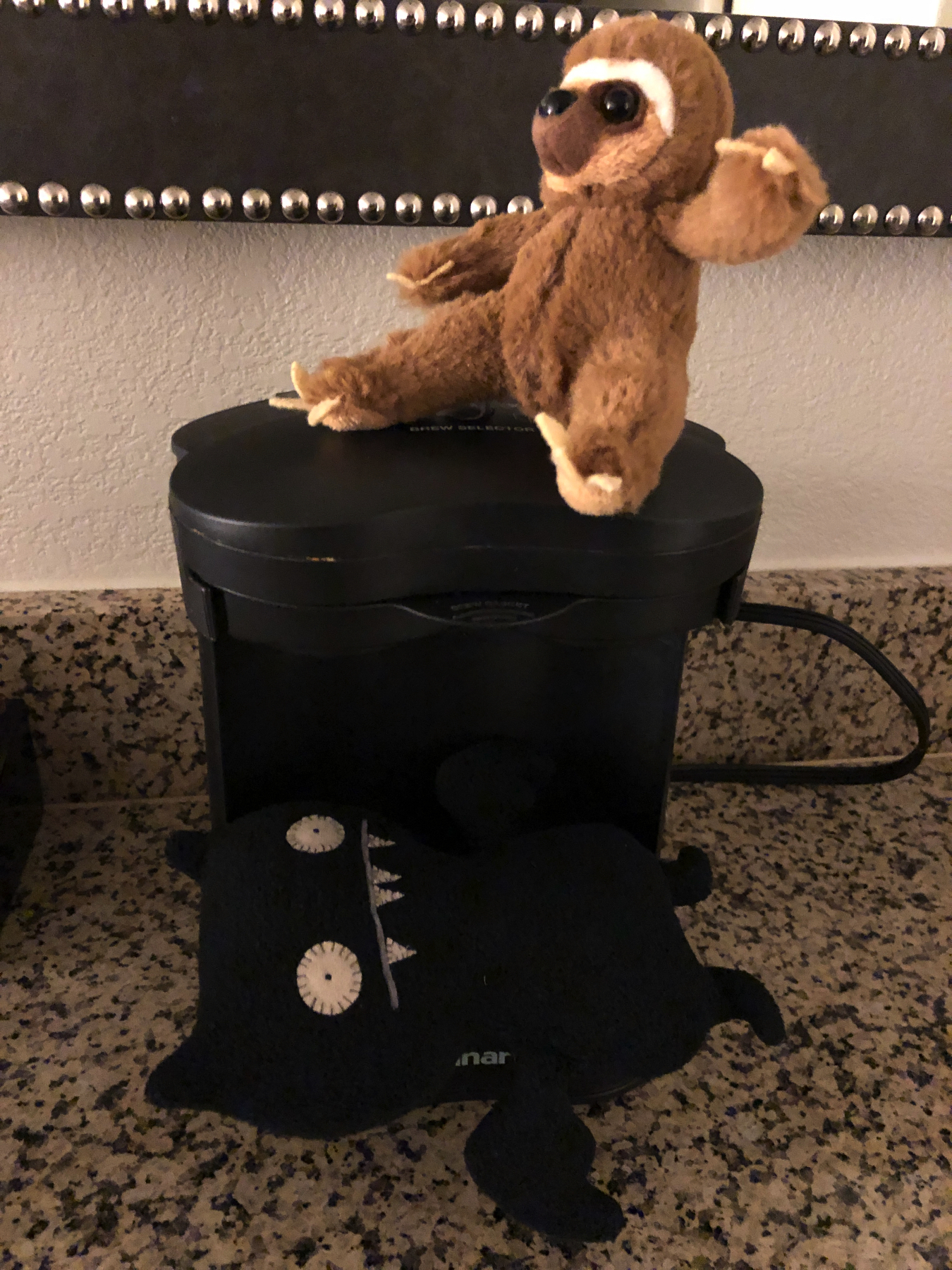 They did get into trouble when they overindulged in snack eating. Tummy aches and complaining for hours!

Overall, not much of an adventure but they were still happy to have made the trip. Next time I'll try to make more of an effort to sightsee with any traveling companions.
Movies
Polar was released on Netflix and I'm a fan of Mads Mikkelsen who stars in it. Mads is the highlight for sure. I felt it dragged a bit at parts and scenes seem to swim back and forth between being serious and campy which is a bit distracting.
I've seen The Big Lebowski before but it'd been a long time. Seeing it again reminded me of how good the film is, and how well it's held up.
The Kid Who Would Be King interested me because of writer/director Joe Cornish, who directed a film I really liked called Attack the Block. Kid was fun but more for kids than adults. The camera-work and direction did make it feel like a bigger film than it was.
Books
Just finished Static Ruin by Corey J. White which is the third book in a series called the Voidwitch Saga. Each book was an insanely quick read. None much more than two-hundred pages. But wow they are packed with awesomeness.
Mars Xi is immensely powerful. She can pull starships and even planets around with her mind. The result of being raised in a lab and its experimentations. The series starts well after she's escaped, but she's constantly on the run, haunted by the realization that to gain the freedom she wants, she must become the monster her pursuers fear her to be.
See what I'm currently reading on Goodreads.
Board games
After typing in Boardgames as one word, I wondered if it truly is a single word, or two. It seems to be a common question but it does appear to be two words, so I'll try to stick to that.
Last year, I replaced my first edition copy of Darkest Night with the new and improved second edition. This is the first time I've gotten this new version on my table. I've got it setup but taking some time to review the rules again before I start a play-through.

If you're familiar with Pandemic, it is similar, only with a much simpler map and rather than viruses spawning all over the place, the Necromancer (who your goal is to defeat) moves all over the board spawning various creatures and blights which make things bad for you.